I wonder how many of us vape if any of you do at all! It helped me quit smoking (i quit in one day) 4 months ago and haven't smoked again.
For those of you who dont know what vaping is: Using a tank or dripper that contains a coil with cotton inside. Basically you drip the juice or fill the tank (it has flavoring, VG, PG and nicotine) on it and vape away. For some its an art as they make their own coil for others simply a way to quit smoking. The major parts of vaping is the tank/dripper and the mod its sitting on either a mechanical or a regulated box mod with batteries inside that heat up the coil and create the vapor.
If anyone wants/needs help to quit smoking and has not been able to do so with the traditional methods let me know and i can help you shake the awful habit by explaining how it works, what to get etc.
Some examples:
This is what vaping is:
Tank on a mech mod

Dripper without and with cotton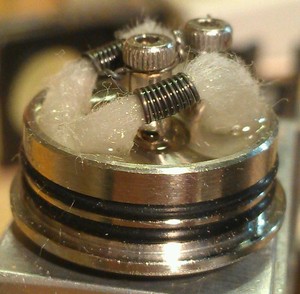 http://cdn.shopify.com/s/files/1/0286/3578/products/Tugboat_rda_atomizer_1024x1024.jpg?v=1396746601
regulated box mod
https://vapedoutdistro.com/wp-content/uploads/2015/05/1426123718393-P-2467681.jpg
and a video of my favorite dude reviewing an rda:
i suggest this:
1 IPV4 Box mod: http://www.myvaporstore.com/Black-iPV4-100W-Box-MOD-by-Pioneer4you-p/p4u-ipv4b.htm
1 Atlantis V2 Tank: http://www.vaperoyalty.com/aspire-atlantis-v2-sub-ohm-tank/
juice from here: https://vapejoose.com/ (very cheap good quality)
2 subohmcell batteries: http://subohmcell.com/ (need to get from your local vape shop)
1 charger: http://www.amazon.com/Nitecore-IntelliCharger-i4-Battery-Charger/dp/B005UAI372/ref=sr_1_1/181-2688713-8107241?ie=UTF8&qid=1434070763&sr=8-1&keywords=i4+nitecore
Pricing:
$84.95 for the box mod
$28.99 for the tank (comes with 2 free coils)
$20.00 for both batteries
$17.65 for charger
151.59 TOTAL
Expendables:
$25.00 for 120ml of juice (good for 1-2 months)
$20.00 for the coils 1-2 months depending on use (5 pack each lasts 1-2 weeks)
22.50 Monthly average
Worth every penny and this is a setup from someone who has spent alot of money on vaping and i know my stuff. I have more mods and mechs and boxes than most and this is the most (constant) vape cloud/flavor combo out there for the price.